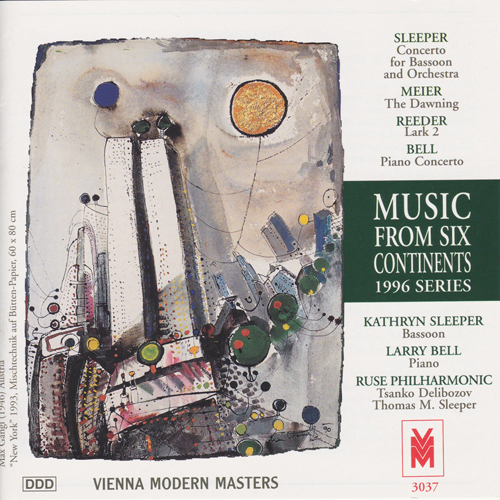 (VMM 3037)
Larry Bell – Piano Concerto
Ruse Philharmonic
Tsanko Delibozov, conductor
Larry Bell, piano
Larry Bell
Piano Concerto
I. Lyrical and Magestic 9:02
II. Blues Theme with Variations 7:26
III.. Dancelike and Driving 5:24
Music from Six Continents 1996 Series(#3037)
Larry Bell – Piano Concerto
Piano Concerto was commissioned by Gerard Schwarz for Music Today and the Seattle Symphony Chamber Players. Dedicated tot he conductor, it was premiered by him in New York in 1989 with the composer as soloist. The work received its European premiere in Bulgaria in June 1996 with the Ruse Philharmonic Orchestra, Tsanko Delibosov conducting and the composer as soloist.
Piano Concerto is in three movements of increasing tempo and brevity. The first, Lyrical and Majestic, contains two themes one for orchestra and one for the soloist. During a brief moment in the middle of the movement the orchestra shares the piano's theme. The piano, however, grudgingly recognizes the orchestra's theme in an ironic role reversal at the end of the movement.
The second movement, Blues Theme with Variations, is based on an original melody. The popular blues idiom permeates the set of classical variations. As in the first movement, a brief cadenza introduces a recapitulation of the main theme.
In Dancelike and Driving, the third movement's rhythm is rock-influenced. Later the blues theme of the second movement reappears. As the concerto progresses, each movement gets faster and shorter and the concertato texture diminishes; the piano ultimately plays with the orchestra and not against it.